BP Driver Rewards Card Program offers the BP customers to earn cents off per gallon Rewards and save possibly up to $600 per year.  The Driver Rewards Cardholders can start to earn their Rewards from the very first use of their Driver Rewards Account but they need to be registered with the program to redeem those Rewards.
BP Driver Rewards Card Requirements
Before going to take advantage of the BP Driver Rewards Card Program make sure you have all the requirements to get the Driver Rewards Card such as:
Users must be 16 years of age or above to be included in the BP Driver Rewards Card Program.
They must not be California residents.
They must have a valid email address.
To get BP Driver Rewards Card
There are two ways to get your BP Driver Rewards Card-
You can simply visit a BP gas station near you or any of their gas pumps. There you can see a green pamphlet advertising the reward program. Take a card from there and register it at www.mybpsation.com/register to activate the card.
Or, you can visit the above-mentioned registration page, complete the entire registration process successfully and the card will be sent to your home by mail.
BP Driver Rewards Registration
The BP customers, who want to activate or sign up for the BP Driver Rewards Card, can follow the steps listed below to register and create their online BP Driver Rewards account to use their cards.
Go to www.mybpsation.com/register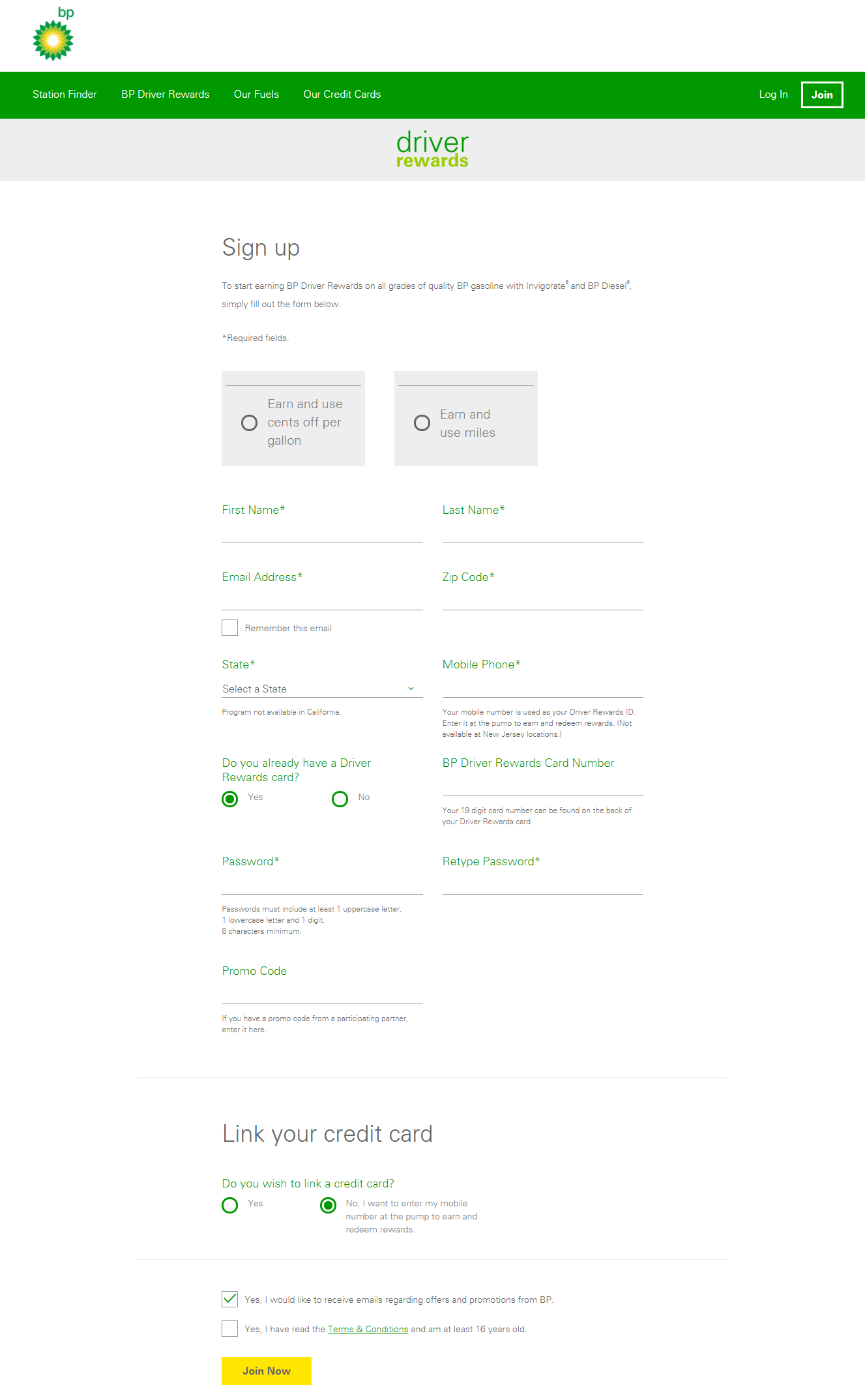 Select the type of Rewards card and enter the information i.e.
First Name
Last Name
Email Address
Zip Code
State
Mobile Phone (used as your Driver Rewards ID)
19-digit BP Driver Rewards Card Number (can be located on the back of your Driver Rewards card)
Identify whether you already have a BP Driver Rewards Card
Create your password (at least 8 characters including 1 uppercase letter, 1 lowercase letter, and 1 digit).
Retype the password
Promo Code (If you have one from a participating partner)
Link your credit card if you want to
Read and agree to their terms and conditions
Click "Join Now"
BP Driver Rewards Card Usage
To earn the Rewards, you have to swipe your BP Driver Rewards Card or linked payment card before stating the transactions, otherwise, transactions cannot be recorded. After swiping the card you will also see your reward balance.
Then you will be prompted to redeem the rewards on that fill-up. If you don't want you can decline.
If you choose yes, the amount as per the current price of the gas will be automatically deducted from your reward balance and you can see it on the display as well as on your receipt.
Important Notes
BP Driver Rewards Card Program has no membership fee.
The Cardholders can earn 1 cent off per gallon for each $10. That means they can earn 10 cents off per gallon for each $100 spent in BP fuel purchases using their BP Driver Rewards Account.
The program is limited to participating BP and Amoco stations in the US.
Users can redeem their Rewards within 24 hours after their registration date.
Users can redeem their Rewards within 24 hours after they were earned.
The rewards will expire in 365 days from the end of the month they were earned.