TruBridge Electronic Paystubs
TruBridge employees are provided with a safe and secure electronic pay stub portal to get their pay stub copies for each period and w2 form over the web at https://paystub.trubridge.net. The website is accessible 24/7 and allows the employees to be registered for paperless pay stubs and enables to log in the account to view the documents online anytime anywhere they want.
The electronic pay stubs are exactly the same as the paper one and provide the same payroll information into the employees' account. Once the users register for the service and access the account, they will no longer need the printed paystubs which are sent to them in the mail. They can download their W2 when it will be available inside their account.
TruBridge Electronic Paystubs Registration
If you are a new user or use the TruBridge Electronic Paystubs for the first time, you must be registered to access the service. Here is a quick guideline provided for the TruBridge employees, who need to complete the registration process.
Go to the TruBridge Electronic Paystubs Login Page https://paystub.trubridge.net
Find the "New User?" link just below the 'Login' button. Click the link and you will be directed to the 'New User Registration' page.
Enter the Hospital Code which is provided by your employer or check the hospital's payroll to find the number.
Enter the Employee Number.
Input the last 4 digits of your Social Security Number.
Enter your Email Address.
Check the box of Email Notification.
Hit the 'REGISTER' button and follow the on-screen instruction to set up your login credentials and complete the process.
Log into your TruBridge Paystubs Account
After finishing the registration, users are now able to log in their TruBridge account and view their Electronic Paystubs. The quick and easy login process requires only two pieces of information.
Visit the login page as the way above mentioned
Enter the User ID and Password which you created at the time of registration this account
Click the "Login" button
Reset the Login Info
The employees, who forgot their User ID or cannot remember the password, use the "Forgot your User ID or Password" link for assistance. To reset the password and create a new User ID, you will need to enter the following details.
Employee Number
Company Number (Same as the Hospital used in the initial process of registration)
Last 4 digits of your Social Security Number
Email address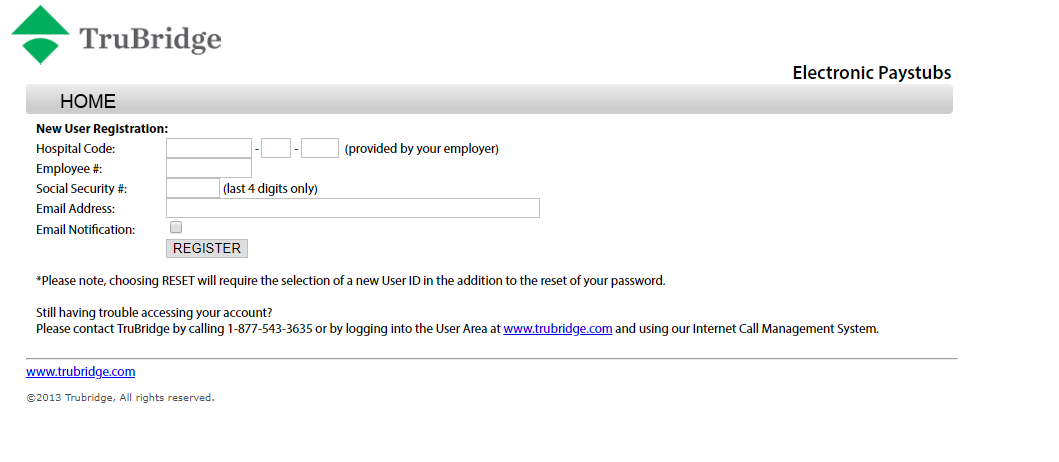 Contact Information
If you are still having problems to access your account, contact TruBridge at 1-877-543-3635
References