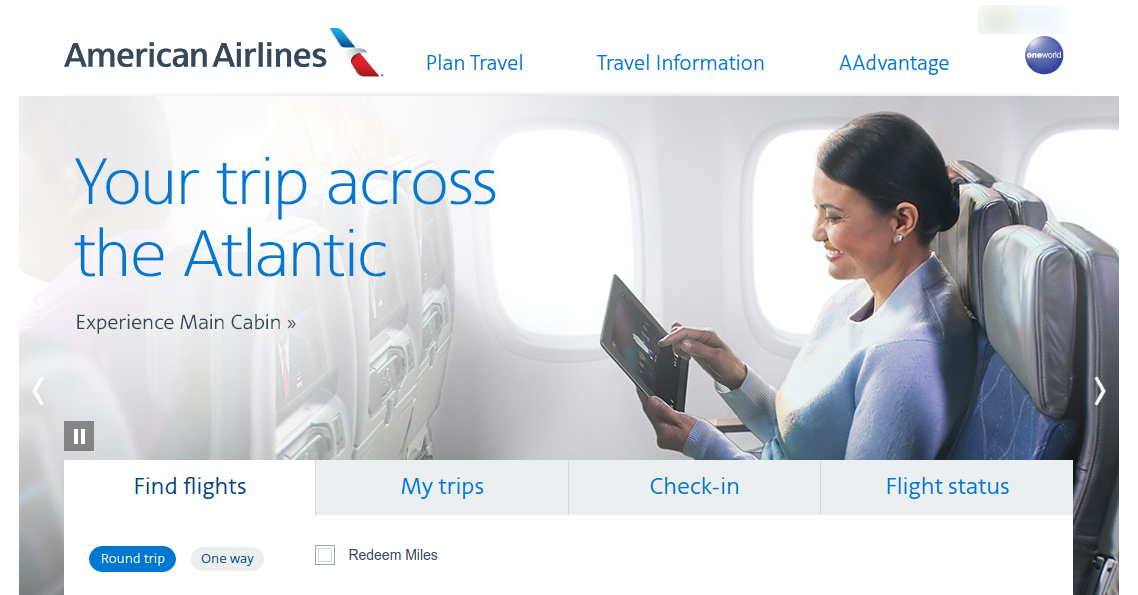 Get Access To American Airlines To Request Or Check A Refund Online
American Airlines is a major airlines service in the USA. Its headquarter is in Fort Worth, Texas. It is the largest airlines by revenue, kilometers have flown, the number of the destination, and fleet size.
The company is allowing its customers to request a refund of a ticket from their online site.
As a customer, if you have purchased a ticket through the United within the recent twenty-four hours and the purchase was completed at least one week before the scheduled departure of the flight, then you might be able to avoid the cancellation fees. If you have bought a basic economy ticket, then you would not qualify for the changes. You have to report within 24 hours.
So, to get your refunds, you need to follow some necessary steps, get the best guidelines from the following.
The policies for AA refund
The refund amount you will receive will depend on many variables. The fees and surcharges collected in conjunction with the ticket will only be refunded if they are applicable.

All the credit card refunds will be processed within seven business days of the request has been made. All the other refunds will be processed within 20 business days of the request has been made.

Your refund will be credited back to your original form of payment you paid from.

If you qualify, you can go to the Manage Reservations page to cancel your reservation and receive a refund.

In other cases, a refund may be requested for any fare that allows refunds. This will depend on the rules of the fare purchased, a cancellation fee may apply. Almost all the fares are non-refundable, and they are not eligible for refunds. On the other hand, the value of your ticket may be eligible to be applied toward the price of another new ticket for a certain fee. Also, tickets are valid one year from the date of ticket issuance.
Request an AA refund
For this, go to, www.aa.com/refunds
Here, in the middle of the page, type,
Ticket Number
Passenger Last Name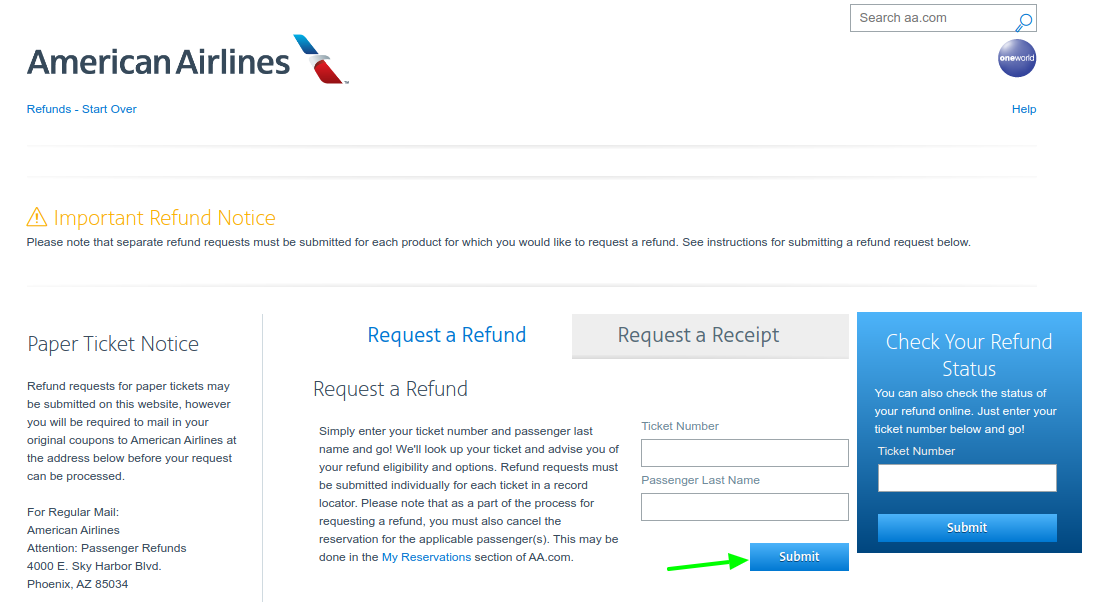 Then, click on, 'Submit'.
Then follow the prompts to get the refund process started
Check the refund status pf AA
To check this go to, www.aa.com/refunds
Here, in the middle of the page, on the right side of the refund blanks, you will get a blue box, where you need to enter,
Then, click on, 'Submit'.
Then follow the prompts to get the check the status.
Note: Refund requests for paper tickets may be submitted on this website, however, you will be required to mail in your original coupons to American Airlines at the address below before your request can be processed.
For Regular Mail:
American Airlines
Attention: Passenger Refunds
4000 E. Sky Harbor Blvd.
Phoenix, AZ 85034
Also Raed : Hot Topic Credit Card Account Login Guide
Additional info on a refund from AA
If you bought your ticket through American Airlines, you can request a refund for:
Baggage fees

Pet fees

Priority

Preferred seats

Main Cabin Extra seats

Same-day flight change

The ticket of a deceased passenger
If you bought your ticket from a travel agent or on another website, contact them for refund help.
You have up to 24 hours from the time of ticket purchase for a refund if you booked at least 2 days prior to departure. The 24-hour refund policy applies to all ticket types, but you have to cancel the trip to get a refund. Reservations booked as part of group block do not qualify for the 24-hour refund.
Refunds will be issued in full amounts, less:
Sale-imposed nonrefundable taxes

The service charge for booking through Reservations
If you bought your American Airlines ticket directly from us, you can request a refund online or contact Reservations.
AA will process your refund back to the original credit card within 7 days (it should appear on your statement in 1-2 billing cycles). For cash and check purchases, we'll process your refund within 20 days after receiving a complete refund request.

If you bought your ticket from a travel agent or a website like Expedia, you need to contact the agent or travel site directly.

AA does not refund nonrefundable American Airlines tickets except when the ticket is canceled within 24 hours of purchase, when we make a schedule change that results in a change of 61 minutes or more, upon the death of a passenger or passenger's traveling companion or because of military orders. Supporting documentation is required.

24-hour refund policy – refund to the original form of payment

Death of the passenger/traveling companion – refund to the original form of payment

Schedule change 61 minutes or more – refund to the original form of payment

Military orders/change in duty – refund to the original form of payment

You may be entitled to a refund of some taxes included in the price of your ticket:

Upon written request, taxes or fees not imposed by the airline that are specific to destinations can be refunded

Taxes or fees won't be refunded if American has an obligation to pay regardless of travel

Refundable taxes and fees will be refunded to the original form of payment

Depending on fare rules, you can apply the unused value of your American Airlines ticket toward a future trip as long as:

Your new trip begins no later than one year from the ticket's original issue date

You canceled the original ticket before the departure of the first flight (or the ticket loses any remaining value and cannot be used for future travel.)

You can choose to pay for up to 3 bags when you check-in (starting 24 hours and up to 4 hours before departure) on aa.com or in the app. You'll get an email confirmation with instructions on where to drop bags at the airport.

If you are checking more than 3 bags, you can add more to the airport according to your bag allowances.

The pre-paid bags feature is currently only available on aa.com or in the app.

indicate you plan to check bags when checking in on aa.com or in the app and our systems will automatically recognize any free bag allowances.

Checked and carry-on pet charges must be paid for at the airport.

You can make changes to your flight based on the rules of your ticket and the pre-paid bags will be moved to your new trip in most cases.

If you decide not to travel on your original itinerary, bag charges are non-refundable.

If you purchase or get an upgrade that includes free checked baggage, at a later time, your previously purchased bag fees are non-refundable.

Limitations and embargo
Also Read : USPS LiteBlue Account Login Guide
Contact AA
If you have any query with AA you can call on numbers which are available in different languages, English- 800-433-7300: 24 hours
Spanish- 800-633-3711: 24 hours
French- 800-756-8613: 7 a.m. to 6 p.m.
Portuguese- 866-824-8717: 6 a.m. to 7 p.m.
Creole- 800-833-5767: 7 a.m. to 4 p.m.
Japanese- 800-237-0027: 24 hours
Mandarin Chinese- 800-492-8095: 24 hours.
Reference :