Experian Account Temporary Security Freeze Removal
Security Freeze is important to prevent your credit, loans and other services being approved in your name without your consent.  But sometimes you need to remove the freeze for the approval of your request or application for your new loans and credits.
If you have placed a security freeze on your personal credit report you have to allow a third party (i.e. creditors, banks) to access your credit report to apply for credit or some other transaction. In that case, you need to lift or remove that security freeze and you can do it online at Experian Freeze Centre.
To Remove the Security Freeze
The Experian account holders, who want to lift the security freeze on their credit file, can submit a request online at www.experian.com/ncaconline/removefreeze The removal process takes only a few minutes to complete. In the request application you need to provide the information listed below:
First Name
Middle Name (optional)
Last Name
Generation
Address
City
State
Zip Code
Social Security Number
Date of Birth
Email Address (for faster delivery of your result)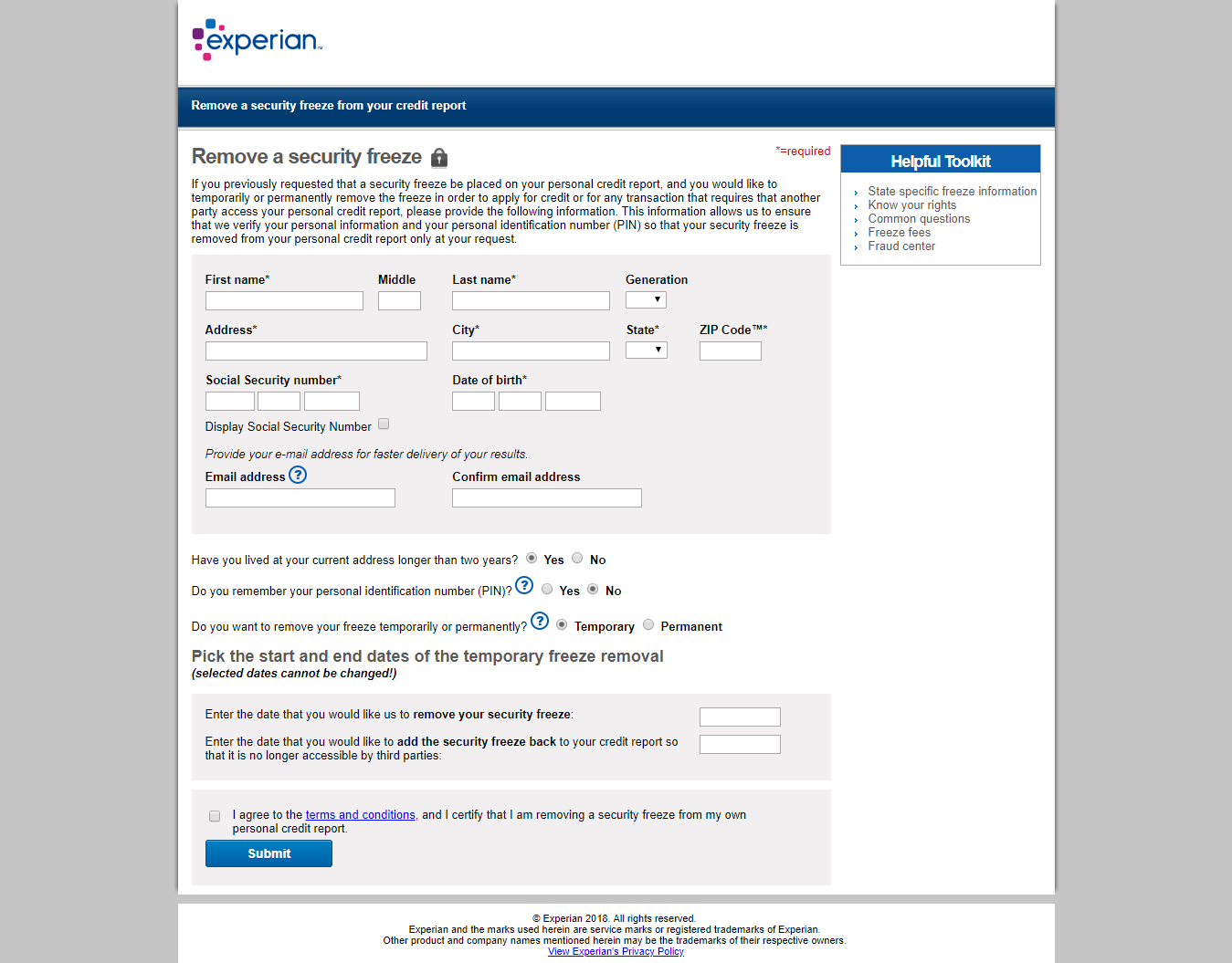 After that, you will be asked a few questions such as:
If you have lived at your current address longer than two years;
If you remember your Personal Identification Number (PIN);
If you want to remove your freeze temporarily or permanently;
Then, enter the date you would like to remove the security freeze.
Enter the date you would like to add the security freeze again.
Agree to their terms and conditions and certify that you are removing a security freeze from your own personal credit report.
Click on the "Submit" button.
Important Notes about Experian Security Freeze
If you want you can make the request for freeze removal by phone or by mail.
Once you have selected the start and end dates of temporary freeze removal, you cannot change it.
This free Experian Freeze Removal Service cannot lift a freeze associated with a TransUnion or Equifax account.
In the temporary removal freeze, you can allow multiple lenders to access your file in order to get the best rate within the time framed you specified.
If you want to allow only one lender to access your report you can choose a one-time use pin. Then give this pin to the particular lender to access your credit report for a single time.
For any question about the Experian Freeze Removal process, you can call an Experian customer service agent at 1(877)284-7942.
About Experian
Experian Plc. is a consumer credit reporting agency and provides the service to over one billion people and business in which 235 million consumers and more than 25 million businesses are from the US. It is a Dublin, Ireland based company and one of the Big Three credit reporting agencies.
Useful Link:
www.experian.com/ncaconline/removefreeze