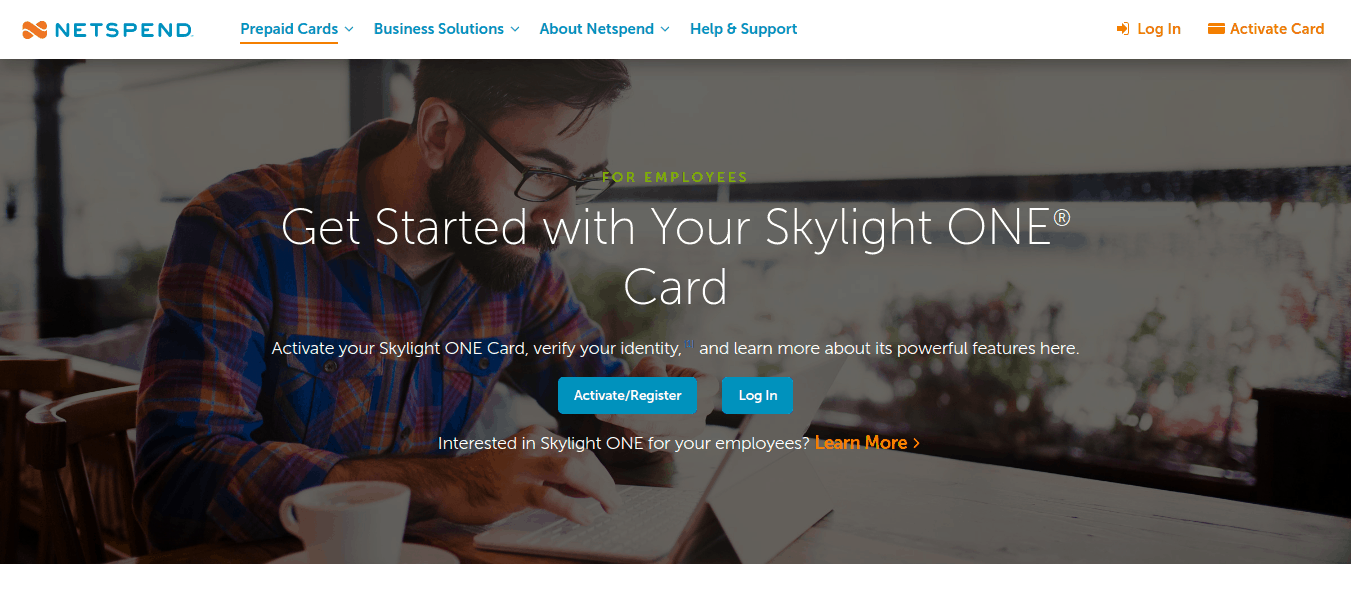 Skylight ONE Prepaid Paycard
Netspend offers Skylight ONE Visa Prepaid Card and Skylight ONE MasterCard Prepaid Card through Skylight PayOption program to assist in helping the consumers make the payroll paperless as well as give the employees a convenient way to receive their paychecks. This Paperless Payroll Prepaid Paycard, issued by Axos Bank, also acts as a powerful tool for money management.
Skylight One Prepaid Paycard Features & Benefits
Skylight PayOption is a complete and effective payroll program that is beneficial for both the employers and the employees.
Employer Benefits
For employers, the Skylight ONE Paycard is more than just distributing paychecks to the employees as it will help them to make sure to cover their bases in enrollment, distribution, funding, management and more. By using Netspend Skylight ONE PayOptions Program into their business they can get the information they need and will be able to do a lot of activities easily and conveniently with accessing the following features.
Cut fewer checks with streamline the payroll process and potentially save cost per transaction by using Direct Deposit instead of paper checks.

Reduce environmental impact by making your payroll system green paperless

Enroll multiple employees at one-time through batch processing or update individual employees with the flexible enrollment process

Multiple card distribution options to give the employees an instant issue pack to get them started or provide the information to Netspend to put personalized Skylight ONE Paycard in their hands.

Built-in card inventory management to order new, instant-issue cards manually and set up automatic card shipments

Access the employee data, audit your program, create a personalized report, monitor account usages, run report online, etc. using the robust reporting tools

Fund employee accounts to distribute money to the employees online with a few clicks through your Skylight PayOptions accounts in a corporate portal

Stay in compliance with state wages and hour laws that govern payroll cards to meet your regulatory obligations

Get access the available value add features such as Skyposit to fund account for one-time load or loads to multiple cards and submit to custom distribution groups

Electronic W2 Statements available to all employees even to those who are not in the Skylight PayOptions program

Receive full program management services including implementation, support, training, and marketing
Employee Benefits
Apart from being just get paid employees with Skylight ONE Card gain the convenience of a prepaid Paycard and access some of the great features such as
Cost and time savings as there is no waiting in line to cash checks and no check-cashing fees

Free access to 100% wages through over the counter cash from more than 122,000 Visa or Mastercard member banks.

No cost Skylight Check to access the full funds in cash over 8800 locations nationwide

Get cashback at the point of sale at participating merchants and through surcharge-free ATMs

Use anywhere Visa Debit or Debit Mastercard is accepted

Pay bills, purchase money orders or send money through the mail

Funds are FDIC insured in FDIC member issuing bank

Manage and control spending with Money Management and Budgeting tools

Prescription savings cards to get discounts at participating pharmacies
How to Activate a Skylight ONE Card Online
In the Skylight ONE PayOptions Program, the employees can activate their new Skylight ONE Prepaid Debit Paycard online. To initiate the activation process, you can follow the steps provided below:
Visit www.skylightpaycard.com

 and click on the blue "Activate/Register" button located in the middle of the homepage

Or, you can directly go to www.skylightpaycard.com/account/activate

Enter the 16-digit Card Number from your Skylight ONE Card in the respective field

Then enter the security code from the back of your card in the next field.
Click the "Continue" button to verify your identity.
Complete the verification process following the on-screen prompts to activate your Netspend Skylight ONE Visa or MasterCard Prepaid Card.
How to Recover Your Skylight ONE Pay Card Online Account Login Info
The Skylight ONE Online Account users who forgot their login credentials can retrieve the username and reset the password to regain their account access.
To Find Username
If you do not remember the username, click the "username" link next to 'forgot your' below the 'LOG IN' button on the Account Login Page, www.skylightpaycard.com/account/login. Enter the email address of the Primary Cardholder and hit the "Continue" button to move forward to the username retrieval process.
To Reset Password
The beginning procedure of the password resetting is almost the same as the username recovery. Click the "password" link next to 'forgot your username' below the 'LOG IN' button on the Netspend Skylight ONE Account Login Page and provide the Primary Cardholder's Username and Email Address. Click the "Continue" button and follow the guide on the screen to generate a new password for your Skylight ONE Visa or MasterCard Online Account.
Also Read : Online Login Guide For Rush Card Account
Contact Information
For any issue related to your Skylight ONE Visa or MasterCard, log into your online account and use the email service through the secure inbox in it.
For other inquiries, you can email at customerservice@skylightpaycard.com
If you want to speak with a Netspend Skylight ONE representative, you can dial Customer Service Phone Number: (888) 606-9800 (toll-free)
Or, you can Fax to (888) 628-91255
Netspend Skylight ONE Mailing Address:
Skylight
PO Box 2136
Austin, TX 78768-2136
Reference :
www.skylightpaycard.com/account/login